Wrapped
These still life paintings refer to environmental concerns about food production by way of the meanings and associations we attribute to wrappings.
Wrappings and coverings provide protection, but simultaneously conceal and obscure, arousing curiosity and influencing perceptions about what's underneath. Wrappings convey a range of meanings from benign to enticing and from well intentioned to deliberately misleading.
These works aim to address issues of truthful representation by drawing attention to wrappings that mislead and obscure. The wrappings in these painting are used to highlight contemporary concerns about agricultural production, ranging from the unnaturally perfect appearance of food to the misleading hype about its freshness and goodness.
This appearance of perfection functions as a wrapping which shrouds an underlying reality that is at best flawed and at worst toxic.
These works are painted in encaustic in a variety of sizes.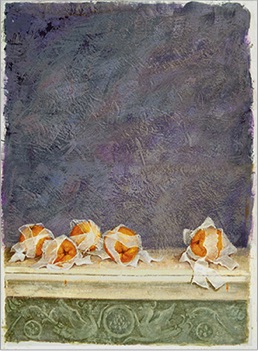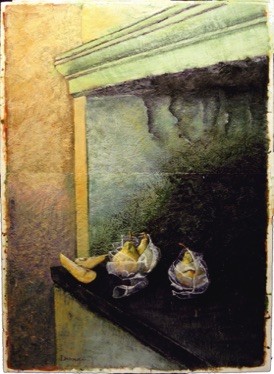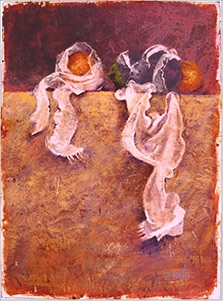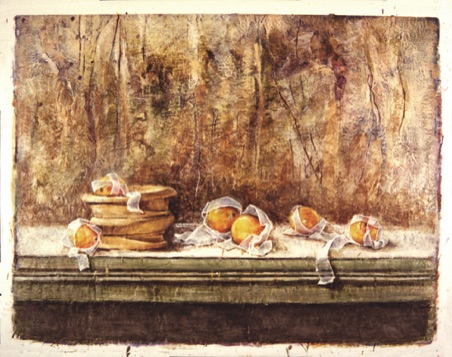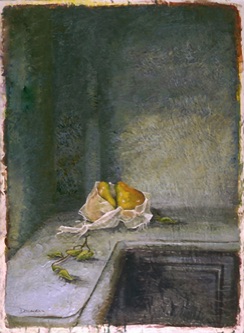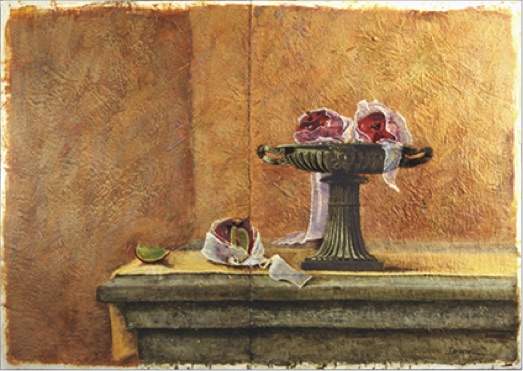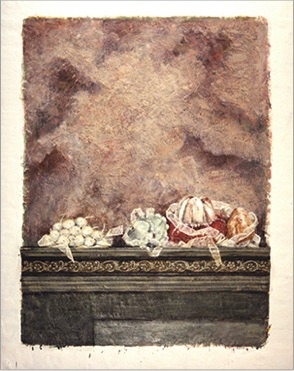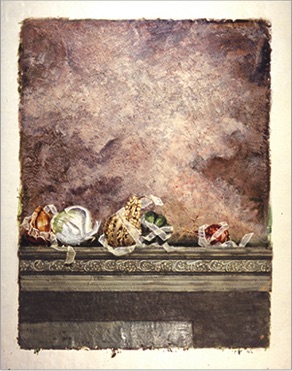 Fruits of Our Labour, (diptych), Oil and wax, wood moulding on wood panels, 42 x 66"
Shelf Life, Oil and wax on wood panel, 42 x 33"
Promises, Promises, Oil and wax, wood, and fabric on wood panel, 42 x 50"
Apples and Urn, Oil and wax on watercolour paper on wood panel, 42 x 50"
Pears, Oil and wax on
watercolour paper, 30 x 22"
Entropy, Oil and wax on watercolour paper on wood panel, 41.5 x 30"
Eggplant and Oranges, Oil and wax on
watercolour paper, 30 x 22"
Five Oranges, Oil and wax on wood panel,
41.5 x 30"
Pears, All Dressed, Oil and wax on watercolour
paper on wood panel, 41.5 x 30"