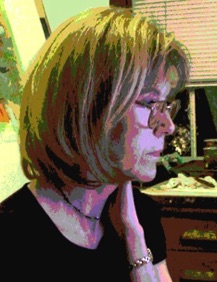 Teri Donovan is a Toronto-based mixed media artist. Her work addresses issues of perception, memory, and identity, as well as patterns that shape thoughts and behaviors. The entanglement of the past with the present and future, and ways in which identity and social roles are shaped by familial and cultural milieus form the basis of Donovan's practice.
These ideas are expressed in mixed media figurative and still life paintings, and occasionally in photography, drawing, and three dimensional work.
Donovan's work has been exhibited at The Robert McLaughlin Gallery, Oshawa, Ontario; Hermes Gallery, Halifax, Nova Scotia; Hamilton Artists Inc., Hamilton, Ontario; the Latcham Art Centre, Stouffville, Ontario; ARC Gallery, Chicago, USA.; the Art Gallery of Mississauga, Ontario; and Viridian Gallery, NYC, USA.
In addition, she exhibited for a number of years at the Red Head Gallery, Toronto, where she was a member until Jan. 2020. Donovan's work is represented in corporate and private collections and was featured in Carte Blanche Vol.2: Painting, a survey of contemporary painting in Canada.
She holds a Fine Arts degree from York University and a Bachelor of Education from the University of Toronto. She also studied at The Maryland Institute College of Art, Baltimore, the Ontario College of Art and Design, the Toronto School of Art, and audited the MFA program at York University.