Re-Presentations
Questions about representation as it relates to truth, perception and memory form the basis of these paintings.
Presenting more than one image of each face elicits questions about which is the most accurate re-presentation. Since we have no access to a 'true' reference we are left to wonder. Even if we did have a reference we might still question our ability to perceive and interpret correctly.
The painted images impose a mediated interpretation between the viewer and the person depicted, thus detaching the image from its subject and replacing reality with a representation.
This occurrence, so common in visual culture, makes perceiving what is real or true and what is not, no simple matter. Illusion and reality occupy the same space and meaning is no longer dependent on truth.
These works are painted in encaustic in various sizes.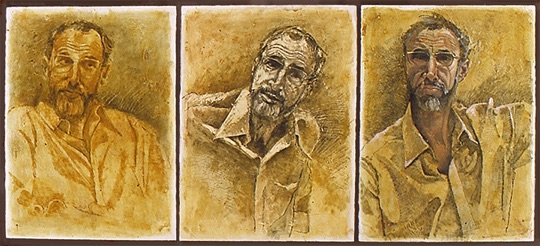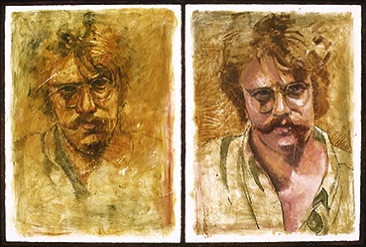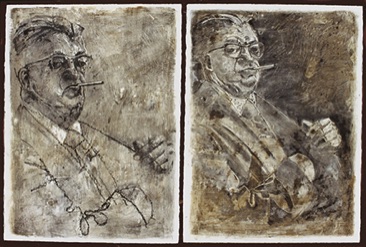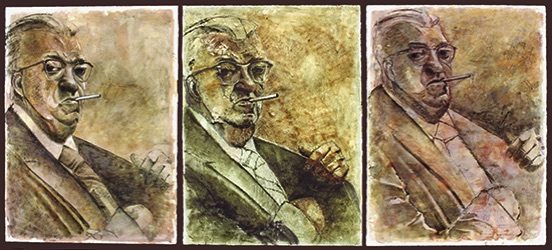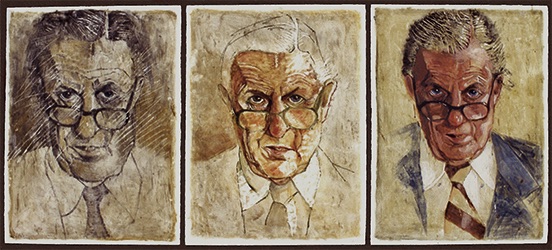 Cigarette Man, Oil and wax on watercolour paper on wood panel 31.25 x 69.5"
Judgement, Oil and wax on watercolour paper on wood panel 31.25 x 69.5"
Grey Zone, Oil and wax on watercolour paper on wood panel,
31.25 x 46.25"
Gestalt, Oil and wax on watercolour paper on wood panel,
31.25 x 46.25"
Discernment, Oil and wax on watercolour paper on wood panel 31.25 x 69.5"
The Gaze, Oil and wax on watercolour paper on wood panel 31.25 x 69.5"